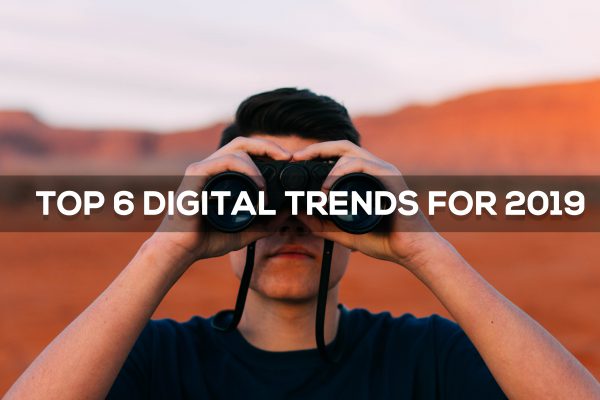 As the age-old adage says, "the more things change, the more they stay the same."  This could not be more true of digital trends for 2019, where we see the continuation of trends that began emerging as far back as 2016.
The difference now is that certain trends we've been harping on about for the past few years have moved into the "slope of enlightenment" phase of the hype cycle.  Whereas other trends like VR still show promise, they're stuck deep in the trough of disillusionment where designers and developers are trying to figure out exactly how the application of said technology will work.
In the slope of enlightenment phase, digital trends are beginning to live up to the promise that made them attract hype in the first place.  These are the trends that will begin to filter into our everyday lives and marketing efforts more and more in 2019.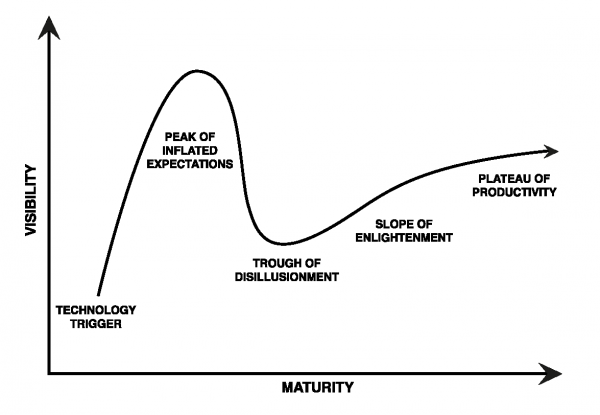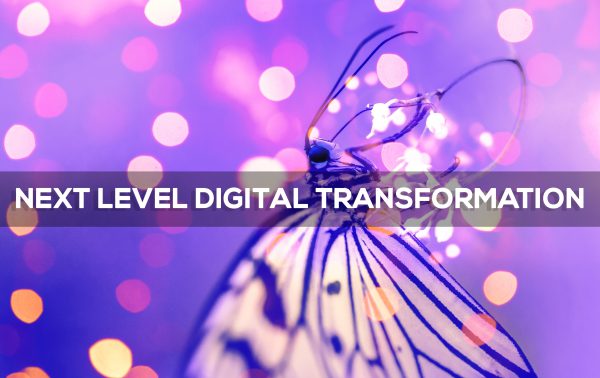 A buzzword that's been buzzing around like a bee in a candy store for a few years now, digital transformation is going to the next level in 2019.  Brands have already realised that without evolving for digital they're essentially dinosaurs, but in 2019 we will see the degree of thinking toward digital become increasingly sophisticated.
In 2019 digital transformation means more than merely having an online presence, it implies upping one's game to consider how to craft integrated digital strategies across multiple channels.  The initial wave of transforming for digital resulted in digital silos.  The new wave  breaks from these silos to allow for a significant shift toward a customer-centric approach.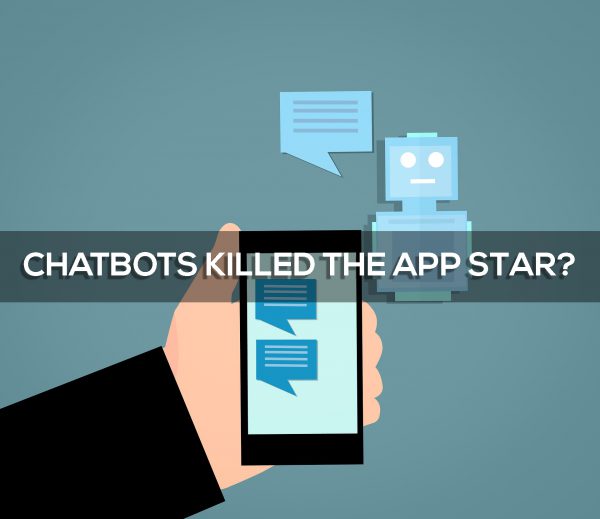 Many predict that the functionality that chatbots can offer – ordering food, booking hotels, searching for products – spells the death of most apps.  Why bother going through to hassle of downloading an app and having it take up storage on your phone when you can simply use a chatbot to achieve the same results?
Video killed the radio star, and now it seems as though chatbots are going to kill what once seemed like the unstoppable rise of apps.  Although they felt like a novelty a few years ago, chatbots are increasingly becoming a highly functional part of our everyday lives.  Thanks to developments in machine learning, chatbots have reached a phase of sophistication that provides benefits for brands and customers alike.
Bots are cheaper than apps to produce and enable brands to have a 24/7 customer service line, boosting customer satisfaction and response rates.  Looking to drive traffic to your website?  Stats reveal that Messenger bots have an 80% click-through rate.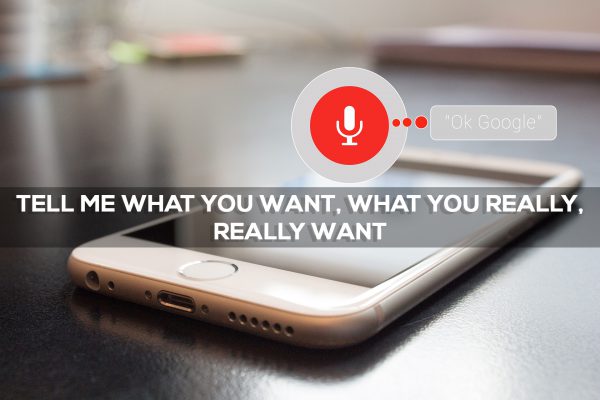 Typing search queries will soon be a thing of the past, as voice recognition technology reaches maturity and the software becomes ubiquitous. Stats show that a third of all 3.5 billion Google searches are now conducted by voice command.
Part of this growth is thanks to the proliferation of voice assistants that have come onto the market, from Amazon's Alexa, to Google Home, and Apple's HomePod.  These may seem gimmicky, but they're not going anywhere as research notes that 65% of users would not give up their voice assistants.
That's great and all, but what does it mean for digital marketing and businesses?  Well, when we ask Siri for nearby Italian restaurants, she only returns a few results, not the pages and pages we're used to on a typical typed search.  This has a profound impact on how we must think about SEO for voice, which is trickier than traditional SEO.
Secondly, there's the matter of content.  We live in an age in which content is king, but as voice search and voice assistants continue to ascend, so too will audio content.  There's a gap here for brands and marketers to get ahead of the curve and start putting out valuable audio content that is optimised for voice search.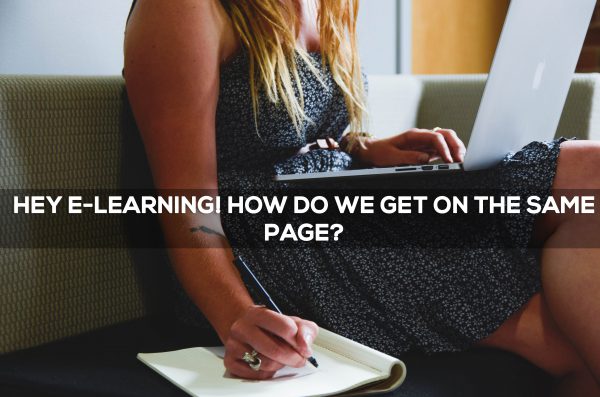 If you think e-learning is only about studying online, think again. Soon many aspects of your life will be led by e-learning.  Forbes reports that 40% of Fortune 500 companies use e-learning for professional development, and webinars are helping companies cut the costs of sending delegates to conferences. Many see the field as a saving grace for up-skilling those in under-developed economies thanks to the favourable cost when compared with traditional education.
The real snag with e-learning is it relies heavily on video, so when you want specific content you can't just search the index and go to the right page like you can with a book.  But not for much longer.  When raw video data can be understood by machine learning, we'll be able to go straight to the content we want. Look out for that handy, time-saving development in 2019.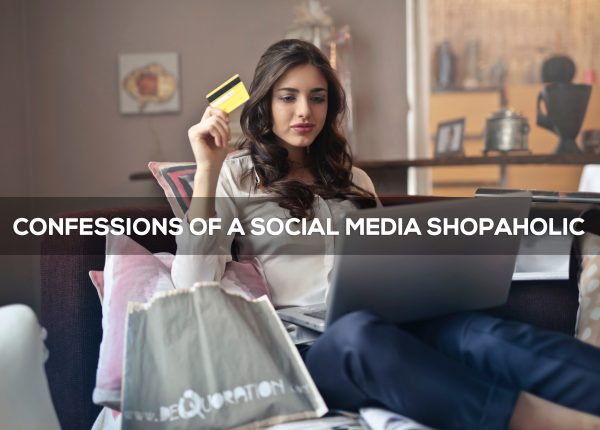 Social media is reinventing itself to allow for shoppable posts.  This type of in-stream e-commerce means consumers no longer need to click out of their social feed to a website to make the purchase of the cool shoes that just caught their eye.
Snapchat is the clear pioneer in building a robust in-stream e-commerce platform.  Jordan Brands, for instance, sold out a limited run of sneakers on the platform.  Instagram has been trialling a native payment feature on the app since the start of 2018, so 2019 will likely see the feature have its global rollout.
It's not just buying products that will go instream: see some #foodporn you can't resist?  Look forward to being able to book a table at the restaurant in question without ever leaving Instagram, thanks to the integration of direct payments and dinner reservation apps on the way.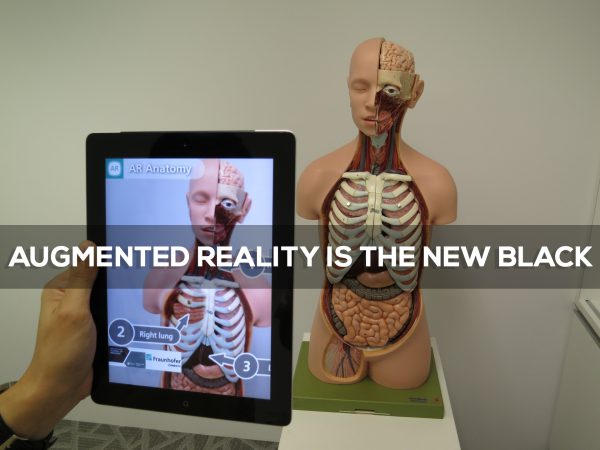 We often forget that augmented reality has been around for a while.  Layering virtual imagery over reality is as old as those digital lines they put on the Wimbledon slow-mo replays to show us why Serena's volley was just out. Pokémon Go took AR to new frontiers by using our phones as the lens through which the virtual characters were layered onto our world.  We've seen Ikea and Amazon use AR to show us what products will look like in our homes.
What's next?  The integration of AR into almost every industry.  Architects can replace scale models with AR to project a 3D model into the room for their clients to take a stroll through. The application to education is staggering. Consider how medical students will be able to dissect the human anatomy and zoom into the body much faster and easier than before with augmented reality. And in just about every business, the rise of holoportation means we will soon be able to stream a 3D image of ourselves into a boardroom as if we're actually there.  Beats Skype, right?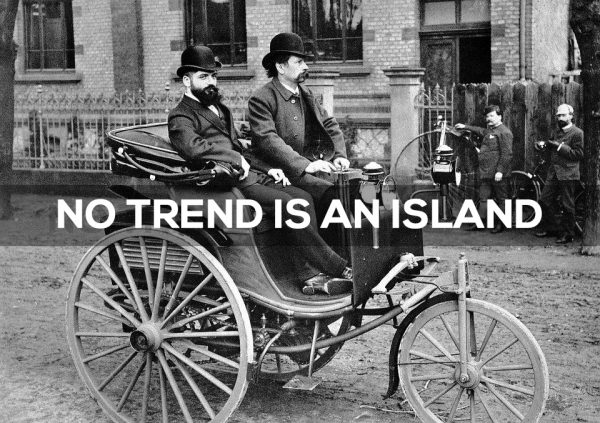 With the invention of the car, the motor was fitted to what looked like a horse-drawn carriage. This eased people into the idea of an automated vehicle.
Trends that really take off are similar: they have the habit of being ones that tie in to something already existing and popular.  Social media and e-commerce.  Augmented reality and e-learning.  E-learning and machine learning.
As we find ourselves in the midst of the Third Industrial Revolution (or Fourth, depends who you ask), we needn't look through our binoculars to the horizon for the next best things.  They're already here!  Instead, we can look through our magnifying glasses to examine how what's already right in front of us can be reconfigured and reimagined for startling new purposes.