In true online fashion, social media platforms are still constantly striving to keep up with each other in terms of their latest features. Snapchat came along with 24-hour video stories shortly after their app became available. This was followed by Instagram stories and the introduction of live streaming – and now you guessed it, Facebook is releasing a similar concept. It's called Messenger Day and it forms part of the messenger app that you've probably already downloaded.
So… what can Messenger Day offer us that we don't already have?

It seems to be a fusion of Snapchat and Instagram stories, although the premise behind it seems less to be about "what you've been up to" and rather focuses more on friends to talk to and meet up with. You can still send private, personalised messages to friends or you can just add them "to your day" which is viewable by the public. It was initially tested in a few countries like Poland and Australia, and is now rolling out globally for all audiences.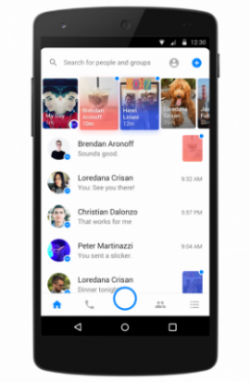 It is relatively simple to use – as well as simple to ignore; if you don't have the messenger app you will not have to see the stories. However, if you are a regular user of the messenger app, chances are this feature may distract you. It is located amongst the content at the top of your app so the point of private messaging becomes somewhat null and void when public stories are floating around. There is also an element of redundancy with Messenger Day, seeing as it sits on a platform that was initially created for sharing pictures and videos to friends.
Nevertheless, for those who aren't using Snapchat or Instagram, this app will provide the same feature on a platform they are comfortable with. The "Active Now" feature is an addition that encourages people to connect with their friends on the spot, and you can stay on Facebook and scroll whilst you wait for your replies. People already share hundreds of millions of photos via messenger a day, so this feature should in theory incorporate this and make it easier for users.
Conclusion
Despite the various issues the app highlights, and maybe with some eventual ironing out the flaws on Facebook's side, generally it looks like it will go down well with its audience. Facebook can afford to take risks like this, so who knows, maybe this will put Snapchat out of business?
video: ©tnw
image: ©metro.co.uk