It's kind of daunting attending an awards ceremony all on your own. You'll know the feeling if you've ever done it. You make your way through the crowd, keeping an eye out for any familiar faces, and when you don't spot any you make your way back looking for a waiter with some wine. Everyone seems to know someone at the event, and you don't seem to know anyone at all.
This describes the first ten minutes of my evening at the Bookmark Awards, but from then on I couldn't have felt more welcome. As it turns out Joburgers (or people in the Digital Marketing industry) are extremely friendly people and I was soon chatting to the team responsible for the (in)famous Nando's ads, one of the Bookmarks judges and the whole team from the King James Group. Everyone was happy to share advice about what I should say in my speech when I collected our award and all of them were surprised to see a guy from Muizenberg dressed in a suit.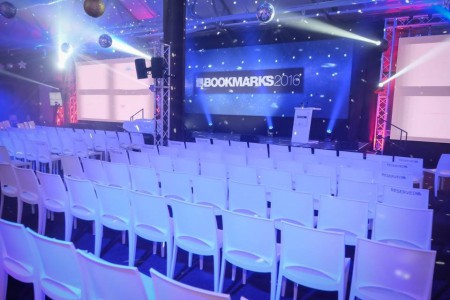 Once we made it into the venue (they took away our booze at the door for some reason) I got seated next to two friendly Afrikaans ladies who were also fascinated that I worked at an agency in Muizenberg. Apparently people assume we'd just be a bunch of beach bums and not award winning Digital Marketers. Look at us breaking stereotypes.
The ceremony kicked off with a magician swallowing a balloon (not kidding) and then proceeded on to the awards. There were a lot of awards being handed out and it was hard to keep track of who had won what, especially because the same people kept appearing on stage. The award categories got called out in what seemed like a random order and so I was a bit unprepared when they announced that Techsys Digital had won a silver award for our Tafel Lager Data Driven Campaign.
I squeezed my way past the friendly Afrikaans ladies and made my way onto stage to a standing ovation from my new friends who create the clever Nando's ads. I shook hands with the gentleman who was handing out the awards, posed for my photo and then made my way off stage. No speeches, no hassle. It was awesome.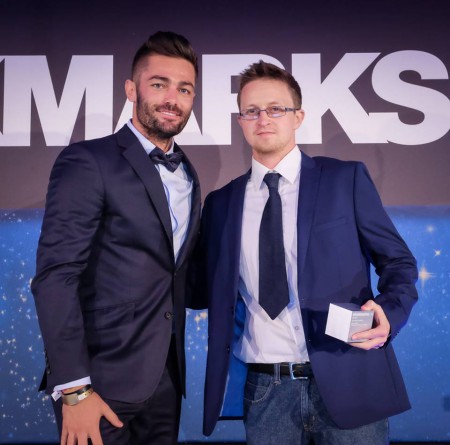 Now the only downside to my evening is that I had to carry the hefty award around with me for the rest of the evening. It weighs at least 3 kilograms and was just the wrong size to fit in my pocket. A few girls standing at the bar at the after party were quite impressed with my new paper-weight and were kind enough to grab me when I walked away, leaving it with the barman. The night continued with some impressive musical performances and I ended up catching an Uber home at about 1 in the morning (with the award safely in hand).
It was a fun and impromptu visit up to Joburg, filled with interesting and friendly people. The Bookmark Awards is an amazing opportunity to see what other agencies in South Africa are doing and to meet and network with creative and innovative people. I'll definitely go again next year if the opportunity presents itself.
PS: For those of you who were doubtful about the magician, here is photographic proof.
images ©IAB